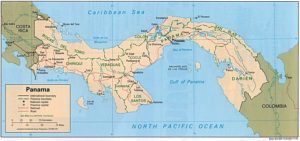 Panama is a beautiful country that is visited by millions of people every single year. Serving as the connecting country between North and South America, millions of ships also travel through the Panama Canal every single year.
Panama is also a highly developed country. It has the fastest growing economy in Central America, and the largest per capita consumer base in the country.
It ranks 59th in the world and fifth in Latin America for the Human Development Index, and its jungles contain plants, birds and animals that are found nowhere else on the planet. If you are thinking of traveling to Panama, there are some things to consider of course.
In terms of the cost of accommodations, these are actually very cheap in Panama. You will spend about $11 to $15 for a hostel dorm, $40 for a private room in a hotel and $60 for a night in a nice hotel with your own private bathroom.
Food is quite cheap as well, with a typical meal costing $10. For fine dining that includes wine, you will pay about $40. Transportation is about $20 for buses around the country. You can easily travel from one side of the capital, Panama City, to the other for four dollars. That all being said, flying in the country is extremely expensive.
How To Save Money
Saving money while you are visiting another country is very important. Some countries can drain your resources very fast, while others can make you feel rich even if you only have a small bit of money. No matter what, saving money is important and here is how you can do so.
First, carry small change. Most places won't accept $20 for inexpensive items, so you are going to want to carry smaller bills so you can pay for things like goods at a shop or taxi rides.
If you are going to eat, eat at local food stands. For four dollars you can get rice, beans, chicken and a side plus a drink.
If you can, avoid taking taxis. There are some drivers out there who will try to charge you more because you are a tourist. They are also less likely to negotiate on a price.
In most places, you can drink the tap water and it won't make you sick, but bringing your own water is always a good idea, especially so you don't have to keep buying new water bottles. In terms of what to drink, stick to beer because it will only cost your 50 cents to one dollar in most places. Mixed drinks are two dollars. Also, avoid hot water. Get rooms with cold water showers because rooms with hot water showers cost a lot more.
What to visit?
There is so much to see in Panama, you may not be able to cover it all in one trip. Nonetheless, here are some of the best places to visit:
1. You need to see the Panama Canal if you are going to Panama. This 80-kilometre long canal connects the Atlantic with the Pacific. Built in 1914, it is a modern marvel of engineering.
2. Casco Viejo: This is the oldest city in the Americas and is full of history. So much so that in 1998, it was recognized by UNESCO as a World Heritage Site.
3. Panama Viejo: The most important Spanish trading town was destroyed by Captain Henry Morgan in 1671. Today, the ruins cover a large area and is a must-see for any history buff.
4. Bocas del Toro: The most popular tourist attraction in Panama, it has the natural setting of jungles and forests, where surfing is king and water taxis can take you to the best spots to snorkel and scuba dive.
5. Boquete: It is considered one of the best places on Earth to retire, and this charming village is located in the mountainous region of the country, where much of the scenery is the ample coffee plantations that dot the landscape. It also has amazing hiking opportunities.
6. Panama City Railway: This railway connects the capital with the Pacific and the Atlantic Oceans. The train is an old-fashioned locomotive and for $50, you can enjoy a round-trip that takes about three hours.
7. Portobelo: This sleepy town was first named Puerto Bello by Christopher Columbus in 1502, which means Beautiful Port. In time, the name became Portobelo and today, its fortifications are considered to be a UNESCO World Heritage Site.
8. Volcan Baru: The only volcano in Panama, it rises to 3,500, making it the highest point in the country. There are some amazing opportunities here to see wildlife, so bring your camera.